Turning waste into bio- fuel briquettes and fertilizer creating an environmental cycle of energy.
The Problem
The problem According to the World Bank 2012, Current global Municipal Solid Waste (MSW) generation levels are approximately 1.3 billion tonnes per year, and are expected to increase to approximately 2.2 billion tonnes per year by 2025. Ten years ago there were 2.9 billion urban residents who generated about 0.64 kg of MSW per person per day (0.68 billion tonnes per year).
This report estimates that today these amounts have increased to about 3 billion residents generating 1.2 kg per person per day (1.3 billion tonnes per year). By 2025 this will likely increase to 4.3 billion urban residents generating about 1.42 kg/capita/day of municipal solid waste (2.2 billion tonnes per year).
An analysis of the Municipal global waste composition shows that 46% of waste generated is organic wastes, Paper is 17%, and Plastic makes up 10%, while glass and metal constitute 5% and 4% respectively of the global waste generation as shown in the figure below. Global Solid Waste Generation
According to the Nairobi City Council (NCC), the capital city generates over 2,400 tonnes of solid waste daily while it has a workforce of 600 devoted to cleaning up the environment. Going by the government's projection by the end 2030 the total solid refuse will rise to 4,000 tons per day due to changing lifestyle and consumer patterns.
Those in the informal settlements suffer the most from these environmental eyesores as they not able to pay for the services. The poor have more pressing needs for their income while the rich can afford to pay private contractors to haul their garbage away.
According to the World Health organization:
Around 3 billion people cook and heat their homes using open fires and simple stoves burning biomass (wood, animal dung and crop waste) and coal.
Over 4 million people die prematurely from illness attributable to the household air pollution from cooking with solid fuels.
More than 50% of premature deaths due to pneumonia among children under 5 are caused by the particulate matter (soot) inhaled from household air pollution.
3.8 million pre-mature deaths annually from non-communicable diseases including stroke, ischemic heart disease, chronic obstructive pulmonary disease (COPD) and lung cancer are attributed to exposure to household air pollution.
Indoor air pollution and household energy: the forgotten 3 billion
Around 3 billion people still cook and heat their homes using solid fuels (i.e. wood, crop wastes, charcoal, coal and dung) in open fires and leaky stoves. Most are poor, and live in low- and middle-income countries.
Such inefficient cooking fuels and technologies produce high levels of household air pollution with a range of health-damaging pollutants, including small soot particles that penetrate deep into the lungs. In poorly ventilated dwellings, indoor smoke can be 100 times higher than acceptable levels for fine particles.
Exposure is particularly high among women and young children, who spend the most time near the domestic hearth.
Manual Briquette Production Processes
Production of fuel briquettes involves the collection and compaction of a combination of combustible waste materials that are not directly usable because of their low density and processing them into a solid fuel product of any convenient shape that can be burned like wood or charcoal.
Although the term waste refers to something that is useless or worthless, it must be borne in mind that"waste, like beauty is in the eye of the beholder." Therefore, conversion of organic wastes into fuel briquettes is being undertaken by NGOs and CBOs in various countries who have seen the positive side of waste.
A common method of briquette production is the carbonization method. Carbonization (or partial pyrolysis) drives off volatile compounds to leave more or less pure carbon; the biomass is heated to within a critical temperature band (around 300oC) but with a restricted supply of air so that it does not ignite.
Various processes options are available including simple earth kilns to more complex retorts that make use of the volatile compounds in heating the process.
The Solution
The Solution Alternative Waste Technologies (AWT) is a commercial briquette manufacturing enterprise based in Nairobi Kenya. It is a Community Interest Company which seeks to convert organic agricultural waste into bio-fuel that can be used as an alternative energy source in homes and institutions.
Biomass briquettes can be used as a fuel to displace firewood, charcoal, or other solid fuels. In the proper context fuel briquettes can: save time, save money, decrease local deforestation rates, and provide and income generating opportunity.
AWT intends to collect the organic agricultural wastes through collaboration with Community Based Organizations (CBOs) which are based in informal settlements. This is because such settlements have limited access to government services of waste disposal hence they lack proper system of waste disposal and hence tend to throw them where there is available space.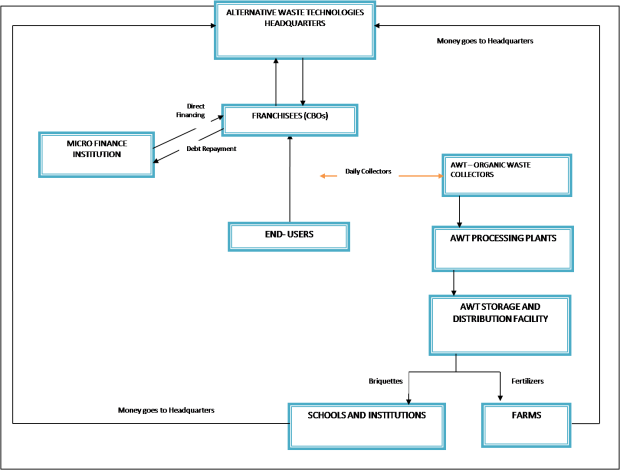 CBOs are in constant communication with the community hence with AWT empowerment strategy they can mobilize the communities to have a waste disposal mechanism which sees the organizations collecting the organic wastes from households at a minimum fee. AWT will also offer the CBOs incentives on every 1 Tonne of organic waste collected on behalf of the company.
Target Market
The target market for the briquettes produced by AWT include school institutions which is composed of primary and secondary schools, restaurants, Prison departments, 3- 5 Star Hotels, Hospitals and community members in the informal settlements.
This is because such organizations and institutions are heavy consumers of firewood and charcoal which are affordable and easy to use however the health hazards associated with their consumption have been seen to be increasing daily.
We intend to capture the firewood market share by securing 15% supply to schools, 15% to restaurants, 20% to prisons, 50% to CBOs, 10% to 3-5 star hotels and 20% to Hospital.
The Competition
There are several organizations that support entrepreneurs in the production of briquettes and these include GVEP international, Practical Action, SNV Netherlands, Middlesex University, Kenyatta University and Terra Nouva which collectively have supported almost 1000 entrepreneurs across the country to start the briquette business.
The leverage for AWT is that they come with the ability to marshal large scale production of organic waste to supply to consumers who need cheap and affordable sources of fuel which is also safe.
Product Features: the Finished Product – Briquettes:
1.  Sustainable:
Made from refined and densified leftover agri & forest residues
Sustainable and Eco Friendly Renewable Fuel
Replacement to Conventional Fossil Fuels
2.  Efficient:
Remarkable Consistency and Burning Efficiency
High Calorific Value
3.  User Friendly:
Highly Safe, Non Inflammable, No Risk of Explosion during transport
Widely used in different types of Boilers & Furnaces
Better compatibility with multiple technologies
Varied Applications
4.  Most Clean & Economical:
Better & Clean Fuel with higher combustion efficiency
Results in clean and local environment as well as lesser human exploitation
5.  Corporate Social Responsibility:
Better Carbon Footprint
Enhancing green and sustainable culture
Improved Workplace
About Project Creator:
Stella Sigana
I am a highly motivated, enthusiastic and detail oriented programme development specialist with keen interest in economic empowerment, rural development and capacity building for marginalized communities. I have a Master of Science Degree in Entrepreneurship and currently pursuing a doctor of philosophy in Entrepreneurship.
I also have 8 years experience in business re-engineering, implementing and designing program activities geared towards community empowerment. I have gained expansive knowledge and experience in working with marginalized communities and Bottom of the Pyramid (BoP) on consultancy assignments across the Eastern Africa Region, am comfortable working in a cross- cultural environment and works flexibly in all environments as necessitated by the nature of the work. I have developed management competencies in the following ways.
I have designed, developed and implemented Economic Empowerment programs for International NGOs whose focus has been on creating and maintaining sustainable partnership and seeking donor support in order to gain strategic advantages for community growth. My key strengths have been identifying and maintaining new relationships with organizations that can facilitate implementation of our program through offering economic opportunities to the youths, women groups and displaced persons due to ethnic conflicts notably having worked in Kibera the largest slum in Africa. I have also supported the teams involved with training the youths and women with life skills needed in a business environment which also included taking them through a train the trainer program. The results are that I have successfully managed to place 250 youths in entrepreneurial organizations and the entrepreneurs have reported good behavior and cooperation from the interns. I have also managed to link 585 community members to financial institutions and incubation centers to enable them advance and grow their innovative ideas to businesses.
Through institutional training, I have been able to build my skills in various ways. Some of the courses undertaken include project management which has helped me in application of knowledge, skills and techniques necessary to execute projects effectively and efficiently. It has empowered me to build strategic capacity for organizations, enabling them to tie project results to business goals — and thus, better compete in their markets. Coupled with this skill is financial management and accounting for organizations that has helped me in budgeting and controlling budgets under my portfolio to ensure efficient resource utilization. Other supporting units pursued such as human resource development and monitoring and evaluation have also been key courses that have built my skills in managing people as well as projects. My experience in conducting trainings and planning activities has guaranteed me success because I know when, why and how to conduct monitoring and evaluation processes. My objectives are thus kept on track and my performance as well as my team members' performance measured.
Finally, I have gained significant experience in structuring programs as well as program implementation. As Program Manager, I have gained knowledgeable skills in structuring an entire department from program objectives to implementation, to realigning personnel, CBOs under my portfolio and creating entrepreneurial opportunities for the organization. I believe that I have structured the department to ensure sustainability of the organizations activities as well as creating profitable ventures for the CBOs. I believe in the power of sharing the little knowledge, skills and experience that I have gained and the more I give the more I will receive in terms of satisfaction in seeing societies change for the better.
Link to the Project:
https://www.indiegogo.com/projects/home-briquettes-convert-organic-waste-into-fuel#/